Planter-Composter Box
design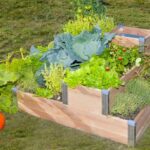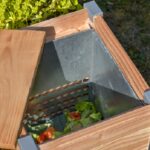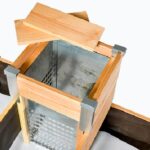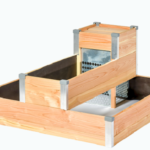 Planter-Composter Box
design
Retail price*: $249,99
Dimensions
Raised garden bed: L 39 X l 35.5 X H 21 inches
Composter: 10 x 10 x 19 inches
Reference
MPPPOT100X95X54D
The PLANTER-COMPOSTER BOX is the combination of a RAISED GARDEN BED and a COMPOSTER. It enables you to make the most of a small space to plant your flowers, vegetables or herbs. It also helps reduce your environmental impact by managing your bio-waste.
The PLANTER-COMPOSTER BOX is a simple modular solution to transform your BIO-WASTE into 100% natural fertilizer concentrated in trace elements and mineral salts. This fertilizer is a true magic potion that nourishes, strengthens and stimulates growth in all your plants and vegetables.
For good compost free from unpleasant odors, it needs to be properly balanced and well-ventilated. To do so, follow the rule of "mixing opposites". The idea is to alternate layers an inch or so thick nitrogenous matter (peelings and non-meat food waste) with dry, carbon matter (paper, small boxes, egg boxes, etc.) and all these items need to be cut very fine to facilitate the decomposition by the micro-organisms (microscopic fungi and bacteria). To make it even more effective, you can add a few spoonfuls of compost activator.
This raised bed garden is MADE IN FRANCE and offers many advantages, especially the joy of (re)discovering the flavor, freshness and nutritional quality of healthy, "homegrown" produce and of sharing the values intrinsic to kitchen gardening and nutritional well-being.
* Approximate retail price (our partner distributors are free to set their own prices).
Read more
Made in France, in Auvergne-Rhône-Alpes

PEFC wood

2-year warranty
Where can you buy our products?
retailers
See the list of retailers
Technical characteristics
WOOD: French Douglas Fir, naturally in Class 3, not chemically treated (free from boric acid, fungicide, ammonium, etc.)
CORNERS: 100% recyclable aluminum, corrosion- and spray-resistant.
COMPOSTER: Galvanized steel made in the Hauts-de-France region
CAPS: Recycled PVC made in Ain
CERTIFICATION: PEFC (from sustainably managed forests)
EASY TO ASSEMBLE: No tools, nails or screws needed!
THREE-YEAR WARRANTY: 0.8 inch thick with tongue and groove paneling
USER MANUAL INCLUDED
En savoir plus
Assembly guidelines
The Mon Petit Potager tip
Découvrez sur notre blog toutes nos astuces et conseils en jardinage. Mais aussi les belles initiatives éco-responsables, des idées et des astuces pour vous reconnecter avec la nature !
Read the article